turbo II Model 68 Precleaner

Rugged performance in all environments: the turbo II Engine Precleaner. The original and best engine precleaner. Often copied, never replaced!
Description
To get the best performance and life from your engine clean air is essential. The turbo II Engine Precleaner is designed to perform in the toughest environments all day, every day.
Reduces engine wear and prolongs engine life
Maintains effective engine breathing for maximum power and efficiency
Extends engine air filter life by up to 10 times
Self powered
Self cleaning
Minimises costly down time
Easy to install in minutes
Tested to SAE J726 - Society of Automotive Standards
Manufactured from high-strength metal with a powdercoat finish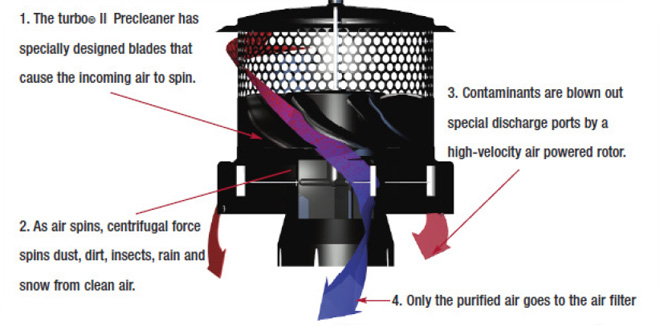 turbo II Engine Precleaner Model 68 Sizes
| Model | CFM | m3/min | Inches | mm |
| --- | --- | --- | --- | --- |
| | Airflow Range | | Inlet Diameter Size | |
| Model 68 6" | 700-1100 | 19.8-31.1 | 6" | 127 |
| Model 68 7" | 700-1100 | 19.8-31.1 | 7" | 152 |
| Model 68 8" | 700-1100 | 19.8-31.1 | 8" | 203 |
| Model | Inches | mm | Inches | mm | Lbs | Kg |
| --- | --- | --- | --- | --- | --- | --- |
| | Outside Diameter | | Height | | Weight | |
| Model 68 | 14.5 | 368 | 17.5 | 444 | 16 | 7.3 |